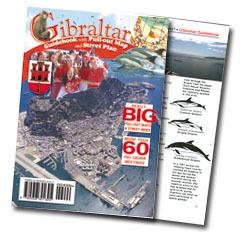 It had long been an ambition of the team to produce a good street map for Gibraltar, something that was felt to be sadly wanting by locals and tourists alike.
In publishing the Gibraltar Guidebook with a full colour map showing the whole of the Rock on one side and a large scale plan of the shopping centre on the reverse we achieved our ambitions.
The full colour map was painstakingly prepared with the greatest attention to detail, but was well worth the effort proving to be a popular item with several sales outlets in Gibraltar.